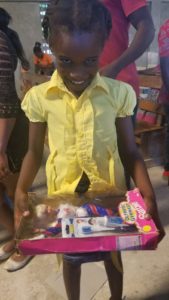 Each year, the organization gives itself the mission to accompany and celebrate with several hundred children who had no hope of Santa Claus, and we are defensively engaged in this mission so that the most deprived children of Haiti have a little hope on this festive occasion.
Last year, thanks to the efforts of all the members, especially Ms. Brunia L. Pilet who gave all her heart and soul. The organization was well present in the locality of Acquin, in the south of Haiti, to give food at first, more than 250 children, and inally, to make a large distribution of toys.
This year again, we want to give thousands of toys across the country. To do this, we are waiting for your heart gesture. Help us make happy children for the end of year party. Give now!
The children are not responsible for their miseries, they are only victims. So, support Movement for Peace in this noble work difficult to achieve alone, but possible thanks to your help.