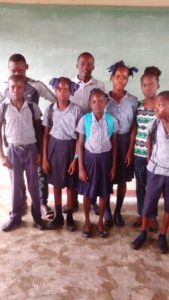 In Haiti, among the most disadvantaged, poor parents still tend to send their children to school either in November or January in general. And despite this great delay, these poor children who have already lost a lot of school days, are often almost to go to school without adequate school materials, and despite all, many of these children still have good performance in dirty of class.
That's why we at Mouvement Pour la Paix, we commit ourselves to this precious work, and at the same time ask for help to save the little ones that the country is wasting. In september 2017, in the locality of Pelerin Aux-Cayes, southern department of Haiti, thanks to the priceless efforts of our members, especially the responsible of the organization in this area, namely Mr. Jean-Fritz Lubin, we sent more of 45 poor children in school, we gave them all for the start of classes in 2017. Such as, school materials, uniforms and so one, and so fourth.
For the year of 2018, we want to send a large number of children who are in need to school in several other departments of the country, but our means are seriously limited. Help us to send as many children as possible to school each year, to the greatest number of children throughout the territory of the Republic of Haiti.